Latest News
Sad News
Unfortunately Renee Dyer, one of our longstanding members, passed away in the early hours of Thursday morning, 18/04/2013, after suffering with mesothelioma. Renee will be cremated at Southampton Crematorium on Wednesday 1st. May 2013 at 2.45pm. Anyone wishing to attend is welcome
April ramblings from the "Doc"
An interesting meeting. The members were invited to say in one sentence what it is that helps them to live with their persistent pain. The sentences were than typed up and displayed on a screen. The result of this exercise can be seen in this link Sentence The group then decided that this was a good reflection of the general feeling of the members and that others might find it helpful. The challenge is to review the sentences and decide how best to display and circulate them. Some time will be spent on this at the next meeting. If anyone has any ideas that they want to explore before the meeting then please email me on norma@rosiewaite.com.
We also spent some time discussing and contributing to a document being prepared for health planning for Southampton, commenting on aspects such as GPs, specialist pain services, social care, and other state and non state provided health services with particular reference to persistent pain. It is good that the group's opinions are being sought on such important matters.
Next month we are going to hear about how we can get involved in research. Should be a worthwhile meeting so do come along.
March ramblings from the "Doc"
Never in a million years would I have believed that we had so many budding cubists in our midst. Tracey Spice has a real talent for making art accessible to even the most reticent and she encouraged us all to have a go at Picasso inspired art with fantastic results. Thank you so much Tracey for your enthusiasm and inspiration.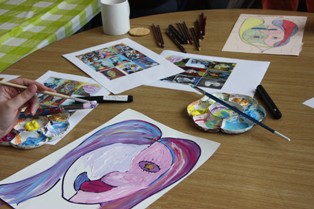 We celebrated our eight birthday with cake and the launch of our new look quarterly magazine. Thanks to Jess, Janet and Kevin for all their work in writing, compiling and producing such an interesting read. (Did anyone else have to resort to the answers to complete the crossword?) If you have not received yours do contact Kevin.
The editors want to remind us that the magazine is only as good as its content and so want everyone to contribute to it.
The first Monday in April is Easter Monday but as we didn't get around to rearranging the date, there will still be a meeting of those who wish at Haskins for coffee at 11am on April1st. And no, this is not a joke!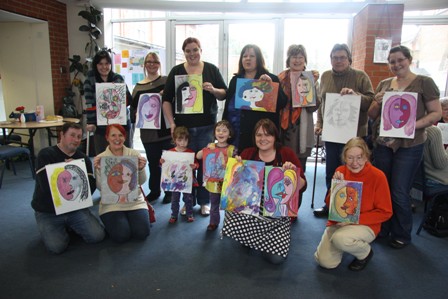 February ramblings from the "Doc"
A meeting very much run by the members.
Janet reintroduced the Keeping Pace library. Reminding us of the range of books relating to pain and self help that can be borrowed for a returnable deposit of £5. Pauline, Janet and Tracy then reviewed a selection of books that they had found helpful and would recommend to the group. Pauline's choice was Break Through Pain by Shinzen Young, Janet introduced The Power of Now by Eckhart Tolle, and Tracy chose 2 books: Perceptions of Pain by Deborah Padfield and The Touch of Healing by Jin Shin.
Jess then informed us about the new look newsletter, nearly hot off the press and ready for distribution in the near future. Jess and Janet have volunteered to help Kevin with the task of writing and compiling this for us. There is even to be a regular competition and the group agreed on a £5 voucher as a prize to encourage the group members to participate and contribute. Ken talked about the focus group study exploring patients' trust in their GP's which some of our members were involved in last month. It sounded like it had been a very positive experience for all who had been able to attend. There is a possibility of a further focus group on this subject as well as other opportunities to liaise with researchers at the University of Southampton. Do come along to our meetings to hear more. Joan expressed her pleasure that the group members and their collective experience of living with pain is so well recognised and valued.
Jim made a suggestion about the group spending a meeting trying to sum up in one sentence their approaches to pain that they find useful. Dorothy immediately supplied us with a brilliant thought that she has a butterfly approach to hers - when in pain she flits from one activity to another, and these can be as simple as doing some colouring in of a picture, for distraction. It immediately conjured up for me a lovely image of colourful butterflies moving from one place to another especially, as to my mind, they do seem to settle down eventually on a beautiful flower. This composing of sentences is to be part of April's meeting. Have a think about what yours might contain. There will be no pressure for people to supply a sentence if they don't want to, sentences can even be contributed anonymously if that is what members want but do come along as it is bound to be a fascinating time.
Next month is our 8th birthday so please join us for cake plus Tracey will lead another art session

January ramblings from the "Doc"
Dr Rose Wiles from the University of Southampton came today to tell us about a fascinating study that is being carried out into how people decide whether to trust their GPs. She explained that trust is very important and might make a difference to health outcomes; if you have trust then you are more likely to comply with the treatment and advice given. Previous research has suggested that patients with long term health conditions show the lowest levels of trust. This is why they are keen to research the topic and particularly to recruit members of our group to participate in a focus group discussion.
We spent the rest of the meeting discussing ideas for speakers for the new year. If anyone has any ideas please talk to Joan at the next meeting to let her know.
Next month we are planning to reintroduce the library to the group and get some of our members to do book reviews. Do come armed with your favourite book or one that you have found particularly helpful so that you can share it with us all.

December ramblings from the "Doc"
This month we celebrated Christmas in our usual way. We shared festive food, attempted to show our collective intelligence by doing a quiz and sang christmas carols accompanied on the piano by Jim. A big thanks to all those who contributed to the event with food and particularly to Mike for compiling the quiz. Instead of our secret Santa, many brought in non perishable food for the homeless to the value of £1. The Southampton City Mission were very grateful when I took them three full carrier bags of goodies.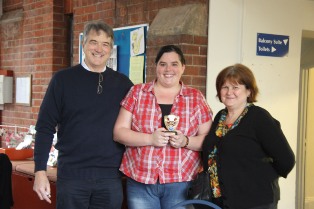 Sue, daughter of Chris and Steve Beal, with the judges David (Norma's husband) and our friend Pat. It was Sue's first attempt at making savoury scones and the trophy was all the more special, as Sue is recovering from viral meningitis! So thank you Sally for your continuing support of the group
November ramblings from the "Doc"
A fun session this month including food and craft. I taught anyone willing the skill of iris folding and we managed to produce a lovely array of Christmas bauble cards.
We held our first savoury scone baking competition and were amazed at the variety of flavours, colours and shapes. All perfectly legal according to our judges David and Pat who had researched the subject on the internet before settling down to the serious business of tasting. The worthy winner was Sue Kelly despite the fact that she had never made any type of scone before! The winning recipe came from a cookery book which is being sold to help fund a replacement roof on the church that the Beales attend in Thornhill. If anyone wants a copy then they need to have a word with Steve and Chris.
The next meeting on Thursday December 20th is our Christmas party. Mike has agreed to set this year's quiz. Please can members bring contributions of food and drink for the event. We normally hold a Secret Santa but this year it has been suggested that people spend their pound instead on an item of food that can collected together, made into a Christmas box and donated to a charity for the homeless. Kip has agreed to coordinate this for us.
We will be meeting at Haskins Garden Centre restaurant as usual on Monday 3rd December but instead of coffee at 11am gathering at 12pm for our Christmas dinner. So far 15 people have given me deposits and their meal choices. If there are any members who wish to be included please contact me via email norma@rosiewaite.com by Thursday November 29th at the latest, with your meal choices, and I will make sure that you are included. The Christmas menu and prices are on the Haskins webpage.

October ramblings from the "Doc"
We welcomed David Drury to our meeting today who gave us an informative and helpful talk about the Hampshire Bobby Scheme which works through the charity The Blue Lamp Trust. The Bobby Scheme is a practical service whose aim is to make us all safe in our homes. Their fully trained fitters give advice about, and provision of, all aspects of home security including: long-life smoke alarms, appropriate door locks, spy-holes and door chains. Where appropriate they will even make good damage caused by a forced entry. The Bobby fitters are all uniformed and carry ID cards. They will always make an appointment before calling. The service is free of charge. The Bobby Scheme can be contacted using bobby@bluelamptrust.org.uk or by phoning 0300 777 0157. David Drury is himself one of the Bobby fitters and certainly would instil confidence in anyone who asked for his help with their home security.
As Web Master, I reminded the Doc to mention the savoury scone off competition planned for our next meeting and the trophy which is up for grabs. However, it seems that she is determined to win (some hope considering her position of bottom in the last competition!), and so tried to keep quiet about it to minimise the number of entrants. She has heard rumours that some people are taking it very seriously and have been practicing for weeks.
Let's have a clean fight please Doc.
September ramblings from the "Doc"
Fran Hodgson returned to treat us to another session of yoga and relaxation. This time we explored the therapeutic use of vowel sounds in chanting and once more managed to make a harmonious noise (most of the time). The reward of joining in and forgetting self consciousness really is a sense of calm at the end of the session. I'm sure we all should find time to practice this regularly in our every day life but how soon that thought vanishes once we return to our usual routines. Fortunately Fran has promised to return next year to keep us reminded.
August ramblings from the "Doc"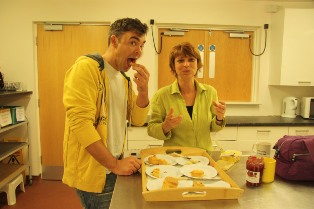 The Judges
Another successful "scone off." Wondrous selections of scones, homemade jam, cakes and fairy cakes decorated to resemble dog faces. Thanks to all who generously contributed their delicious wares. The judges took the task of selecting the best sweet scone very seriously. They seemed to eat a fair amount between them, all selflessly, in the line of duty (or so they told us).
Highly commended came Euan for a particularly light texture, Janet came a close second but the worthy winner was Michele. Sally had kindly donated a savoury scone trophy to add to our event but no one chose to make any this time. The group, as always undeterred and keen on food in general, has decided to hold a savoury "scone off" in November. So get practicing. Tracy was unable to do the art session today and so this is also planned for the November meeting.
Webmaster note: I'd like to add to the above and thank Pat for all her help in the kitchen, which in the absence of Sue (who is on holiday) was really welcome.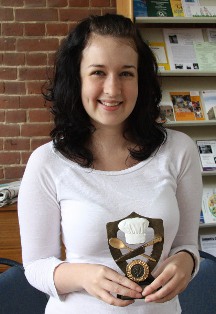 "Scone Off" winner Michele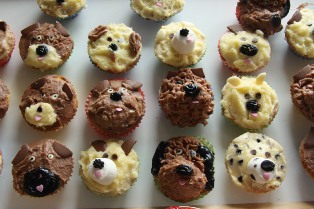 Fairy (dog) cakes
July ramblings from the "Doc"
Sally Curtis kicked off proceedings this month giving us an update on where she and members of our group have got with the "Chronic Pain Loss and the Future" project. The resulting work has now been printed into a very professional looking leaflet. Sally hopes to find other support groups in the area for people with chronic health conditions that also experience pain and get feedback from them as to how useful the booklet and the ideas it contains are.

We spent the rest of the time socialising and planning ideas to fill the forthcoming Keeping Pace schedule. August will be our usual cream tea and the hotly contested "scone-off." Tracy will also run an art session. A cunning plan to distract us from eating too many scones!

June ramblings from the "Doc"
An excellent turnout for a wonderful talk and demonstration of Chi Kung and Tai Chi by Glenda Davies. She is an advanced instructor and showed us how the techniques can be modified to accommodate people's health needs. She emphasised that regular practice can actually improve health. Tracy, one of our members, gave a personal recommendation about the benefits she has experienced since attending Glenda's sessions. Glenda and her associates have a website that is worth checking out http://taichi4healthandwellbeing.com. They run numerous classes throughout our local area. There is a charge for the classes but Glenda generously, and in addition, offers to see people on a one to one basis if they have concerns about their individual health to ensure that they get the most out of the classes. Watching Glenda performing her Tai Chi form was fascinating and a palpable calmness filled the room as she was doing it.
May ramblings from the "Doc"
This month Dr Tony Snell, medical director of Solent NHS Trust came to tell us about the plans to become an NHS Foundation Trust. This is part of their public consultation on their application. There was quite a lively discussion on wide aspects of health in Solent ranging from the out of hours service to fluoridisation of the water to prevent dental decay. The conversation then came back to the subject in hand with some of those present showing enthusiasm for the chance to become a member of this new foundation trust and thus being able to influence decision making. For more information you can visit the website http://www.solent.nhs.uk or phone 023 8060 8937.
April ramblings from the "Doc"
This month the members of the group showed their amazing and widespread talents. Several members set up craft tables allowing others to try out new skills. There was jewellery making, box creating, glass engraving, embroidery sampling and card crafting. A special thanks to all those who brought and demonstrated their skills. I got the impression that there was almost too much choice and not enough time. I'm sure that popular demand will ensure a return session.
Now that this year's birthday photo has been uploaded to the web site for all to see, I must point out and thank the wonderful Sharon. She is in the middle of the picture and supplied not one but two delicious birthday cakes!

March ramblings from the "Doc"
Unfortunately our scheduled speaker was unable to attend the meeting today because of work commitments. We made the most of our free session by catching up on each others news. Lise, having missed last month when we were talking about 2 special dogs: hearing dog Yogi and medical protection dog Toby, took the opportunity to tell us all about her talented King Charles Spaniel called Dahey. She is training him to assist her in lots of activities of daily living such as fetching objects and pulling light switches. It is noticeable to the group how much these canine companions do to boost the confidence of their owners - truly more than just special pets. We were pleased to see Kay back amongst us now fit and well. She shared a few words about displaying and selling her art through an online artwork store www.squidoo.com/workshop/learning-to-see-again-how-art-saved-my-life. She reminded us about how important art is to her and what a vital role it plays in her ability to live with her pain. Janet then gave us a short talk about a positive experience she had had when she decided to arrange a medication review through the Pain Clinic. She had found it to be most informative and beneficial. Next month is a craft session where any member of the group has a chance show and share their talents. If any one needs any raw materials supplied, please contact me via Kevin and I will see what I can do.

February ramblings from the "Doc"
We were honoured to have a very brave lady called Emily (Emmie) to speak to us this month. She has had fragile type one diabetes since the age of 4. In recent years her ability to recognise when her blood sugars are out of control has gone and so she can become seriously unwell rapidly and without any warning. This has impacts on her, her family, and her ability to continue to work full time. She told us how her life and confidence in managing her condition has improved beyond recognition by her recent partnership with the wonderful Toby. He is a medical detection dog who is now her constant companion and who, through his amazing sense of smell, can detect her blood sugar levels for her. She then went on to give us an excellent presentation about the work of the charity who train and supply these dogs. For more information there is a website: www.medicaldetectiondogs.org.uk
Steve Beale then reminded us about how Yogi, his hearing dog, was equally responsible for turning his life around and giving him back independence and enhancing his enjoyment of lif.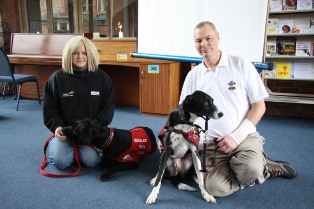 Emily & Toby from Medical Detection Dogs with Steve & Yogi from Hearing Dogs
January ramblings from the "Doc"

We were very lucky to grab Richard Beale who, despite being just back from China with jet lag and mounds of pending paper work, was still willing to come and talk to the group. This time we were regaled with stories of North Korea and it was truly fascinating. What an interesting insight into the life and work of people in such a closed country. It's even called the "Hermit Country". I had no idea that you are not allowed to visit this country if you are from South Korea and if you are from the USA you are not allowed on their trains. You are also not permitted to take computers, mobile phones, GPS's in - it's difficult now a days to imagine a country where these items are not widely available. Despite these restrictions, Richard was able to describe a country rich in its own traditions filled with people who are contented and make the most of what they have. As always, I can't wait to see where Richard goes next and to hear more tales of his travels.
Dorothy suggested that we should hold regular bring and buy sales. To try this out, she suggested bringing any books and bags that members are willing to sell to the next meeting to raise funds for our rent.
December ramblings from the "Doc"
Not a lot to ramble about this month other than to say that we had 2 very enjoyable events: the Christmas Meal at Haskins and the Christmas Party at the church hall. Thanks to everyone who contributed the time, food and company to make these occasions such fun. I am looking forward to the ongoing support of this wonderful group of people in 2012.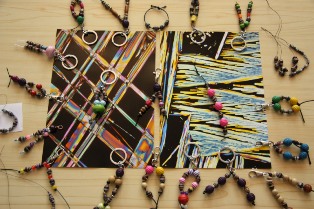 Photo of endorphin, pictured on the left, kindly provided by Dennis Kunkel Microscopy, Inc. Image copyright Dennis Kunkel Microscopy, Inc. (www.denniskunkel.com).
Sally's Loss, Grief and Chronic Pain Handout - Click Here
"Wellbeing" loaf which Mr Cotton sells in his shop. (Click here for information) It is full of healthy grains and seeds and is additive free.